Deel 7 van mijn schetsboek toon-post-topic al! Dat wilt zeggen dat ik toch wel wat getekend heb afgelopen jaar. Hurray, hurray! *probeert haar negatieve 6e post te compenseren* 'k Heb een beetje spijt van die post, aangezien hij zo negatief was. Ondertussen zo geen momenten meer gehad, veel getekend en veel naar een wit blad zitten staren. 'k Denk dat ik steeds meer en meer besef dat kliederen met papier echt het liefste is wat ik doe, dus ook al frustreert het mij soms, 't maakt mij vaker gewoon gelukkig. 🙂
(en dank u Kathleen voor de bemoedigende woorden vorige keer, oefenen we will! ^-^)
Mijn clown meisje (of wat ze ook is) kwam tot stand kort na mijn supergefrustreerde vorige schetsboek-post. 'k was er toen (en nu nog steeds eigenlijk) wel redelijk blij mee. Geen referenties (altijd leuk), gewoon zitten schetsen en er kwam iets uit. Niet alles zal even realiteitsgetrouw zijn, maar hey, daar gaat het niet altijd om hé. Soms moet gewoon mooi zijn.
Cutie Pie – New Doll, niet uw average Barbie popje. :p
Deel 1 van een 2 werkjes die geïnspireerd zijn op Secret van The Pierces: "two can keep a secret if one of them is dead…" Deel 2 is het gepruts hieronder op doek. Nog nooit op doek geschilderd en mijn ervaring met acrylverf is bedroevend laag, dus 't gaat prutsen worden tot het op iets lijkt.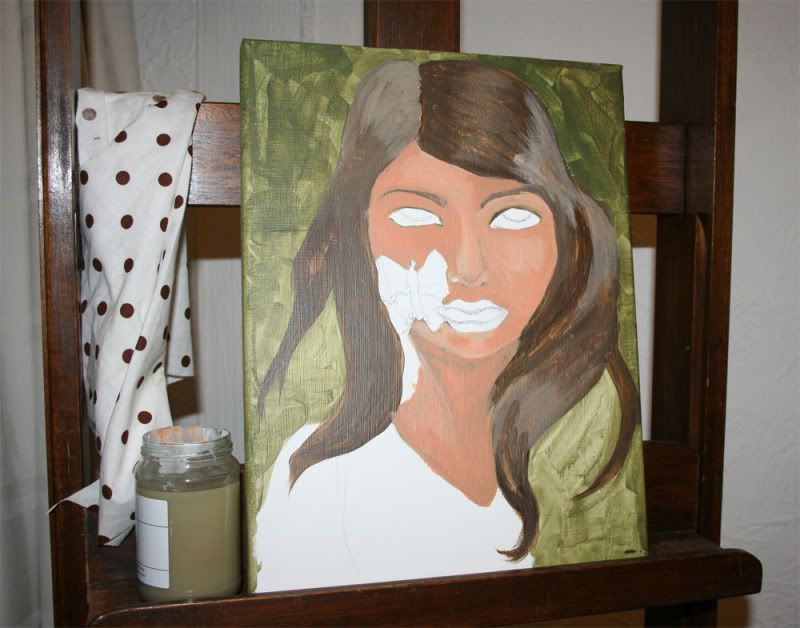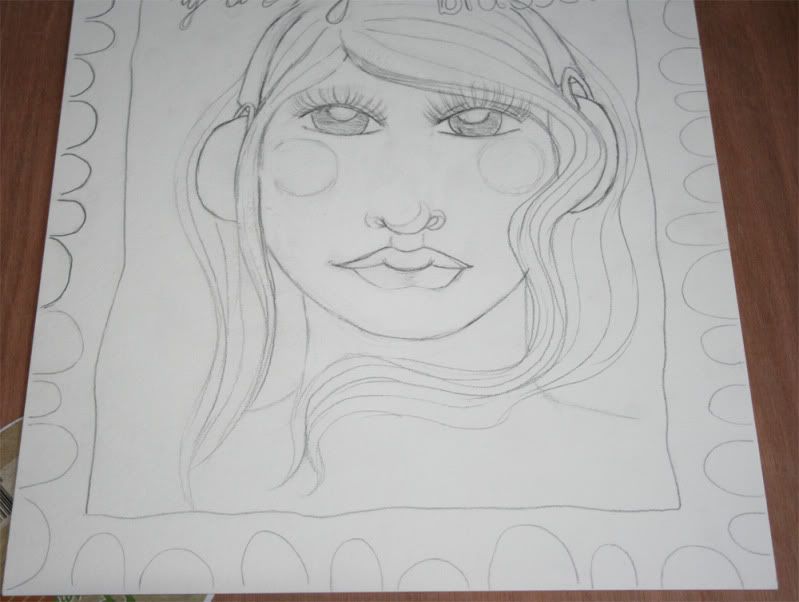 'k Vind ze zelf super, mijn headphone meisje en ik ga ze zo zwaar verkloten met verf waarschijnlijk. Stress op voorhand! Nog meer stress dan anders omdat voor een project is dat ik mss wel wil doen, maar waarvoor ik nog vanalles moet doen en ik heb nog altijd die supercursus timie-management niet gevonden…
Gisteren vlug nog eentje geschetst en getekend op een plank dan, want ik wou nog wat oefenen met acryl voordat ik verder ga doen aan mijn Secret-acryl ding, kwestie van die verf toch wat in de vingers te krijgen.
Volgens mij scheelt er ook iets met mijn tube zwarte verf? 't Is van Winsor & Newton Artists' Acrylic (de andere die ik gebruik ik Galeria) en 'k heb het idee dat ze niet pakt. Niet op papier en niet op primer. Ze mengt ook superslecht met water en ze dekt niet goed. Weird gewoon. 'k Heb zo een tube blauw van Galeria die dan weer supergoed oplost met water (zie strikje hierboven) waardoor dat bijna waterverf is van structuur. Acrylverf = weird. 😛