Nog een kleine week en het is weer zover. We kunnen ons weer volproppen met massa's feestelijk eten en we kunnen urenlang te veel drinken in het gezelschap van onze naaste familieleden. Voor sommigen onder jullie gaat het waarschijnlijk nog een stressy weekje worden, want er moeten nog hopen geschikte, leuke, toffe, persoonlijke cadeau's gevonden en gekocht worden. Gelukkig voor jullie heb ik een fantastische collectie fijne cadeautjes bijeen gesprokkeld (die ik allemaal zelf heel graag zou krijgen) uit mijn favo Etsy-shops. Best van al? Ze zijn allemaal handmade!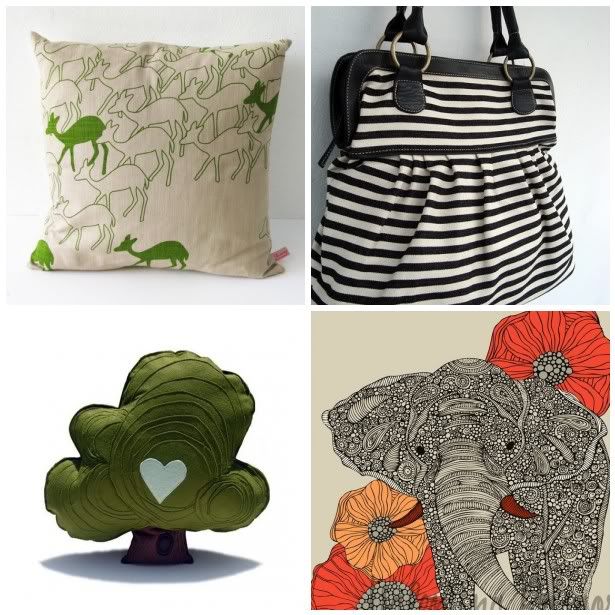 Met de klok mee: 1.Duikers in Green 2.Handbag 3.Good Luck Elephant Print 4.Hi Mr Oak Tree
Met de klok mee: 1.Mice Loves Bow Ties print 2.Pablo the Fail Whale 3.Silver Bag 4.Deer with antlers hat knitting pattern
Met de klok mee: 1.Mr. & Mrs. George 2.Fox Pillow 3.Owl Earings 4.Panda t-shirt (uitzondering op de handmade & Etsy regel)
Je hebt nog geen stress of je hebt al je cadeautjes al gevonden? Dan is er nog tijd om zelf wat dingen in elkaar te steken. Om aan je zelf cadeau te doen bijvoorbeeld.
Per rijtje van links naar rechts:
Winged Shoes (filmpje) & Owl Pillow