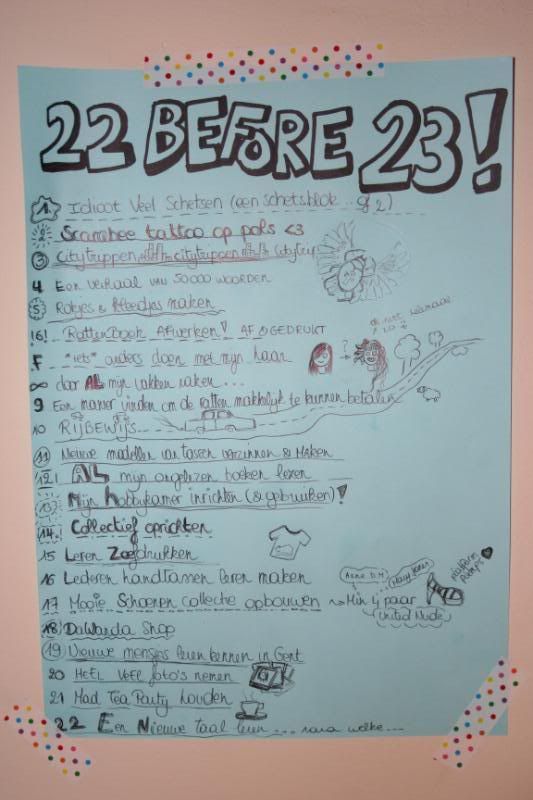 Ik heb er een heel jaar lang in alle mogelijke blogposts naar verwezen, kwestie van jullie te irriteren en mijzelf te motiveren, maar nu ik terugkijk naar wat ik allemaal heb kunnen afstrepen van mijn lijst kan ik alleen maar vaststellen dat het niet erg veel is… Ik ga mij hier niet huilend en jammerend ter aarde werpen, uitroepend wat voor een loser ik wel niet ben (al is die optie wel overwogen). Neen, ik ga flink zijn en doen wat ieder zichzelf respecterend wezen doet in zo een situatie: ik ga excuses verzinnen. *grin*
In mijn verdediging wil ik jullie eraan herinneren dat ik drie examenperiodes en een zware verhuis/semi-verbouwingen achter de rug heb. Allemaal geen dingen die niet echt bevorderlijk zijn voor lijstjes af te werken. 't Feit dat van nature zwaar uitstelgedrag vertoon en mijzelf altijd overgeef aan urenlang "inspiratie opdoen" op internet helpt de zaken ook niet echt vooruit natuurlijk… Ok misschien ligt mijn slecht afgewerkt lijstje vooral daaraan.
01 – Idioot veel schetsen maken (als in een schetsblok of 2) (1,87/2) – Dat telt gewoon, ik ben sowieso al tevreden van al mijn geschets, dat ik die laatste 13 pagina's niet gehaald heb, is totaal niet erg.
03 – CitytrippenCitytrippenCitytrippenCitytrippenCitytrippenCitytrippen… – Helaas niet helemaal gelukt zoals ik het in mijn hoofd had, maar bezoekjes aan Brugge en Leuven tellen ook een beetje. Volgend jaar beter 😛
07 – *iets* anders doen met mijn haar ('t is al eeuwen hetzelfde, af en toe krijg ik gekke "oooh dat wil ik flitsen, maar er gebeurt niets mee. Tips zijn ook nog altijd welkom!) – Superhard gelukt! Helaas is dat ondertussen 6 maanden geleden en moet er dringend opnieuw geknipt worden.
08 – Door al mijn vakken raken……… – Volgens mij ben ik daar sort of in geslaagd.
13 – Mijn hobbykamer inrichten en gebruiken! – Ik breng er het grootste deel van mijn tijd door en 't is zowaar niet alleen om te studeren.
17 – Mooie schoenen collectie opbouwen (wie wilt dat niet? :p)! (6/6) – Gelukt en ik heb zelf plaats voor nog een paar.

18 – DaWanda Shop – Hij bestaat. Laten we het daar voorlopig bij houden.
19 – Nieuwe mensjes leren kennen in Gent & contact opnemen met oude mensjes. Check!