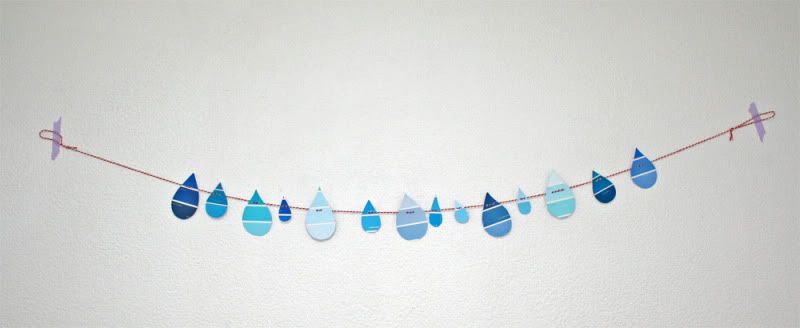 Een Craft Party, dat is een feestje en feestjes, die vragen om slingers! En slingers zijn zowat de makkelijkste dingen om te maken en bovendien ook nog eens supergoedkoop!
Om te beginnen heb je een schaar, een touw of draad, een grote naald, gaatjesmaker/perforator, een stift en een stapel verfstalen in kleuren naar keuze nodig. Ik koos verfstalen in verschillende blauwtinten omdat regendruppels blauw zijn natuurlijk (of grijs, maar whatever, de mijne zijn blauw!). Je kan ook slingers maken met druppels in allemaal verschillende kleuren, maar ik hou meer van één kleur per slinger. 'k Ga dan slingers in verschillende kleuren onder elkaar ophangen als ik de éénkleurigheid wil doorbreken. 🙂
Eerst teken je de druppels op de achterkant van de verftstalen, waarna je ze uitknipt. Je kan dit ook gewoon freehand doen, maar ik vind het gemakkelijker om los rond de getekende vorm te knippen, je kan dan nog wat bijknippen als de druppel niet helemaal is zoals je hem wou.
Nadat je een stapel druppels uitgeknipt hebt, maak je twee gaatjes per druppel. Daarna rijg je het touw met een naald door de gaatjes. Om de slinger af te werken kun je aan de uiteinden van je touw nog een lus maken of je kan de slinger gewoon omhoog hangen met wat decoratieve tape.
Have fun! 🙂
Meer slingers: