Gisterenmiddag waren er problemen met mijn provider, vandaar dus dat mijn tutorial een beetje vertraging heeft opgelopen. Niet getreurd, vandaag krijgt u er twee voor de prijs van één! Morgen volgt trouwens de laatste DIY, maar 'k vond het eigenlijk wel wijs om zo allemaal kleine tutorials te schrijven (en dingen te maken), ik ben dus van plan om dat wat meer te doen. 🙂 Ah, had ik trouwens al gezegd dat ge al mijn maaksels van deze en vorige week kunt winnen? Donderdag komt de give-away online, dus stay tuned. 🙂
Zoals beloofd dus, iets met t-shirts. Tweedehands of cheap-ass nieuw, dat blijft hetzelfde (ofwel met een paar meter t-shirt stof van bij uw lokale stoffenwinkel). Naast een tweetal t-shirts (XL of XXL) of stretchstof komen ook een schaar, een stikmachine (of naald en draad) en een veiligheidsspeld van pas.

Om te beginnen snijdt ge uw t-shirts in repen. 'k Had mijn zwarte t-shirt in een brede strook en drie smallere stroken geknipt. De brede strook vormt de basis van de sjaal, de drie smallere stroken had ik gevlochten, maar heb ik uiteindelijk niet gebruikt wegens te kort. Hoeveel vlechten en volle stroken katoen je gebruikt, kan je zelf kiezen natuurlijk. Ik heb uiteindelijk één volle strook katoen en 4 vlechten gebruikt.
Mijn tweede t-shirt heb ik in twaalf stroken van verschillende breedtes geknipt (drie per breedte) zodat ik daar vier vlechten van kon maken. Je kan de vlechten ergens aan vastleggen met de veiligheidsspeld zodat je een constante spanning kunt aanhouden om zo een mooie vlecht te verkrijgen. Wel niet aan uw vlecht trekken, gewoon los en gelijkmatig vlechten.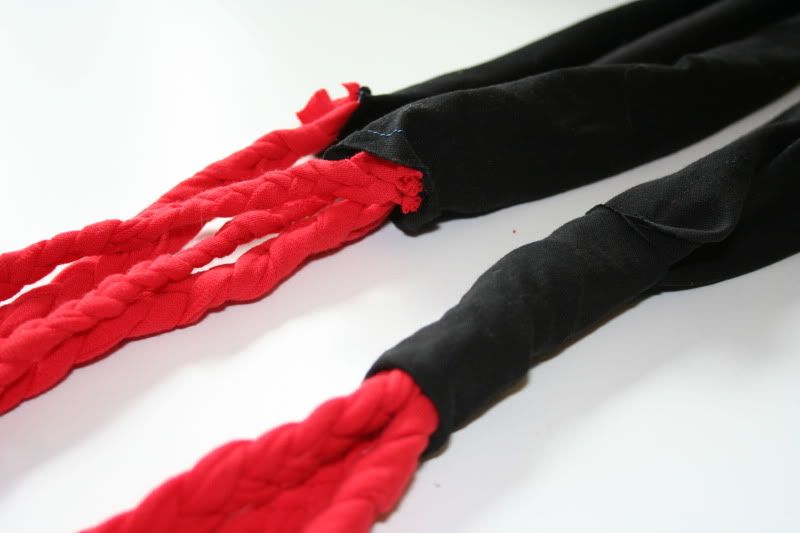 Vervolgens stik je de uiteinden van de vlechten aan de uiteinden van de brede strook van je t-shirt, zodat je een grote cirkel van gevlochten en ongevlochten stof krijgt.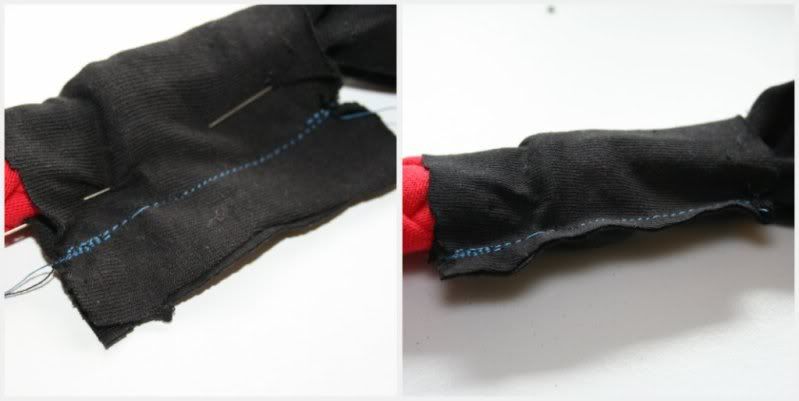 Om de sjaal af te werken knip je nog twee rechthoeken uit de mouw van je t-shirt, deze stik je toe over de plaats waar je de vlechten aan het ongevlochten stuk stof hebt gestikt. Bijknippen en nog binnenste buiten draaien en je sjaal is klaar!
Tada! Het experimenteren met manieren waarop je hem kan dragen, kan nu beginnen!