Allison van Crafted Love kwam met het idee op de proppen om wekelijks iets te maken uit de groeiende map met inspiratie, geweetwel die op uw computer vol met foto's of dat boek vol knipsels uit magazines. Of, als je net als ik aan het Pinnen geslagen bent, uit die lijst van dingen die je op Pinterest verzameld hebt. Ik vond het onmiddellijk een goed idee, alles wat mij kan motiveren om meer dingen te maken, kan alleen maar goed zijn.
Om te beginnen heb ik iets klein uitgeprobeerd. Een paar dagen terug was ik namelijk op deze tutorial van Kaylah van The Dainty Squid gekomen waarin ze toont hoe je zelf makkelijk polka dots op je nagels kan aanbrengen. 'k Vond het een leuk idee, dus het werd opgeslagen. Deze morgen bedacht ik dat mijn nagels er nogal saai uitzagen (ik draag dan ook al drie weken Skull & Glossbones van OPI), dus werd er een contrasterend lakje gezocht en huppa: dots everywhere!
'k weet dat mijn nagels er niet super uitzien, ze hebben net drie uur in het water doorgebracht, terwijl ik hard op fruitkistjes aan het wrijven was…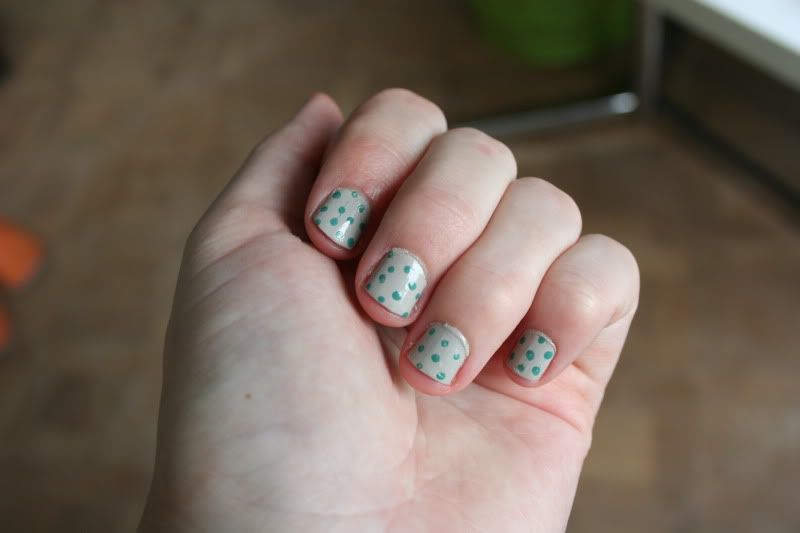 Allison of Crafted Love came up with the idea to create something every week from that inspiration map on your computer (or Pinterest) or that notebook piling with articles from magazines. I liked the idea immediately, anything that can get me motivated to make things, is a good idea. 
For this first Pinspiration I tried something small (and rather spontaneous). This morning I suddenly realized my nails were looking boring (I've been wearing OPI's Skull & Glossbones for three weeks now, so no surprise there) and I remembered Kaylahs tutorial on how to put polka dots on your nails. 
I like the result very much, although my nails aren't looking at their best, since I cleaned some wooden boxes this morning, involving a lot of rubbing (they were really dirty) and lots of water.