Ik heb vandaag een mini DIY voor jullie! Iedereen heeft wellicht al gehoord van krijtbordverf en de zalige dingen die je daarmee kunt doen. Moest het van mij afhangen dan had ik een hele muur in krijtbordverf. Het blijft echter wel een duur medium + er komt een hoop tijd & opkuis bij kijken om zelf een krijtbord te maken. Gelukkig bestaat er ook een supersnelle en goedkope manier om een krijtbord look-alike te maken. Het enige wat je nodig hebt is een kader (ik gebruikte Virserum van Ikea), een stuk zwart papier en een Window Marker. Snijdt het zwarte stuk papier op maat van de kader en plaats de kader in elkaar. Je Window Marker goed schudden en je kan beginnen schrijven! Om je bord schoon te maken hoef je er enkel over te gaan met een stukje keukenpapier of een vochtige vod.
Je kan ook een oude spiegel gebruiken om op te schrijven of in plaats van papier een leuk stofje als achtergrond gebruiken. 🙂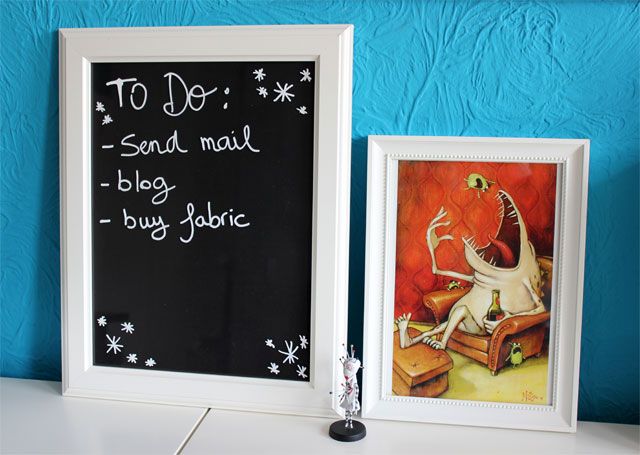 // I got a super quick DIY for you today! I'm guessing everybody already knows about all the things you can accomplish with blackboard paint.  I really love blackboard paint, I would paint a whole wall with it if I could. Even though I love it, I still find it quite pricey and it's always a mess when you have to clean the brushes. Luckily there is a very cheap and quick way to make a blackboard look-alike! All you need is a frame (I used Virserum from Ikea), a piece of black paper and a Window Marker. Cut your pieces of paper the size of your frame, assemble the frame and you can start using your marker! To clean your board, you can easily wipe it down with a paper towel.
You can also use the Window Marker for writing on an old mirror or instead of using black paper as background you can use a pretty fabric. Lots of possibilities and they're all quick, simple & cheap. 🙂