Vorige Week was er een waarbij ik veel tijd doorbracht met mijn potloden en penselen, door een zonnig en warm Gent slenterde, mijn tuin lente-klaar maakte (hoewel ik met het vriesweer op komst misschien toch beter nog had gewacht), veel natte Loki te zien kreeg en genoot van een nieuwe 101 Woonideeën en een geweldig nieuw boek.
// Last Week was one where I spent a lot of time with my pencils and brushes, where I enjoyed a sunny and warm Ghent, where I made my garden spring ready, got to enjoy a wet Loki (he can go outside now and he loves water) and a new 101 Woonideeën and a lovely new book

Broodjes eten op de Korenlei // Eendjes voederen met voorgenoemde broodjes // Dille  & Kamille die een leuke lente collectie heeft // Nieuw leesvoer: 101 Woonideeën & Thuis je eigen stijl, een leuk interieur boek.
Eating sandwiches in the sun on the Korenlei // Feeding ducks with said sandwiches // Enjoying the spring collecting at Dille & Kamille // New reading material: 101 Woonideeën (my favorite dutch interior magazine) and the dutch version of Homespun Style.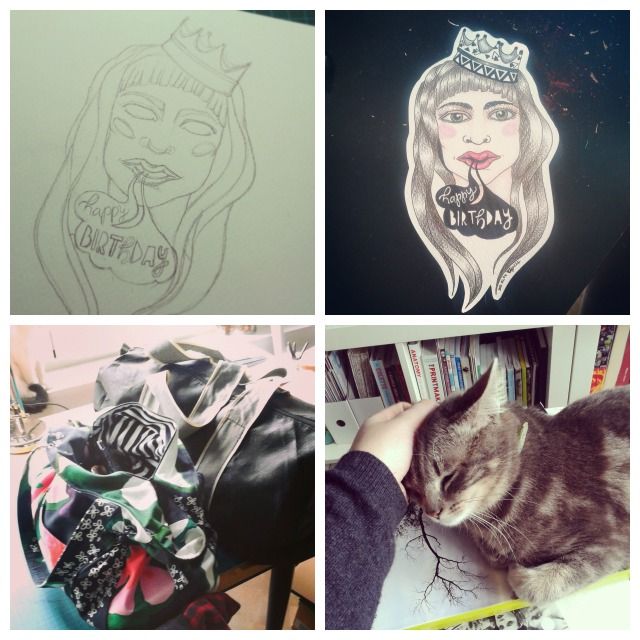 Ik maakte een verjaardagskaart voor An // Gepakt & gezakt voor een verlengd weekend thuis // Een vaarwel & zijt braaf aai voor Loki
// I made a birthday card for An // All packed for a long weekend at home // Saying goodbye & be a good boy to Loki
Hoe was jullie week? Ook genoten van de warme dagen? Ik kijk uit naar volgende week (ook al gaat maandag een droeve dag zijn)! Ik mag namelijk naar een perconferentie in Antwerpen en ga deze geweldige blogster ontmoeten. Zaterdag is het dan weer Retrobeurs in Gent + ik heb een paar leuke dingen die afgewerkt & op de post moeten. 🙂
// How was your week? I hope you enjoyed the few warm spring day? Although Monday will be a sad day and there will be lots of bad weather, I'm looking forward to next week. I'm going to meet this lovely blogger and on Saturday there's the Retrobeurs (a vintage market) in Ghent + I also have a few nice things I need to finish and send out. 🙂