De afgelopen weken mocht ik nog eens wat op de post doen. Onder meer voor An, die verjaarde, en voor Elisse, die ik compleet vergeten was op haar verjaardag. Pakje nummer drie ging met een gigantische vertraging (nogmaals sorry) naar Pebblyn, die mijn give-away eind januari won (I know, schande..). Zelf kreeg ik ook een bedankje voor mijn verjaardagspakketje in de bus van An.
// I sent out some mail last week, some of it was way over due. I got mail from An, because of the package I sent her for her birthday. I also mailed a little something to Elisse, because I forgot to send her a birthday card in February and I finally send my package to Pebblyn, who won my give-away back in January. I know, I terrible with deadlines.
An vroeg om verjaardagskaartjes op haar blog, dus besloot ik om er eentje te tekenen. Daarnaast vulde ik de enveloppe nog verder op met ditjes en datjes: onder andere een uil-broche, een origami strikje, een kleurrijke slinger en een voodoo popje-speldenkussen.
// This is the package I sent to An for her birthday. She asked for birthday cards on her blog, so I drew her one and added some extra stuff like on owl brooch, an origami bow, a colourful bunting and a creepy/cute voodoo doll pincushion.
Loki vormde, zoals gewoonlijk, een geweldige hulp bij het inpakken. 😛
// Loki was, as usual, a great help with putting the packages together. 😛
Pebblyn had nog iets te goed voor mijn verjaardagsgive-away in januari. Ik wou opnieuw zelf iets maken en uiteindelijk werd dit het. Omdat ze van dat soort laarzen hield, maar ik er zelf geen kon maken op een andere manier, tekende ik er een paar en voorzag ze van bijpassende quote. De tas versierde ik met getekende snorren.
// Pebblyn had to wait a long time for the give-away package she won in January. I made a shopper dcorated with moustaches and I made her a drawing of her favourite boots (because making the boots themselves was a bit hard) and I added a fitting quote.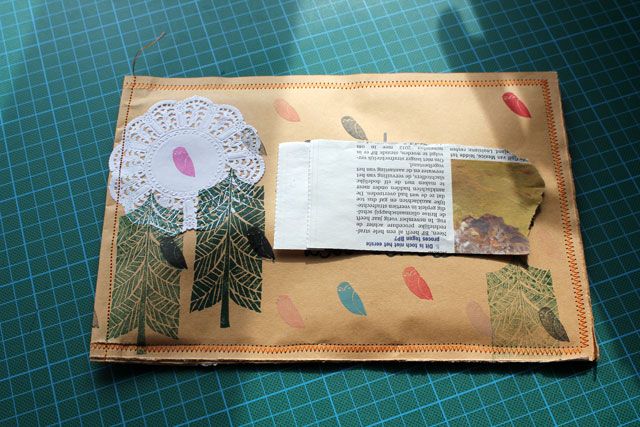 Elisse had in fabruari ook om verjaardagskaartjes gevraagd, maar ik was natuurlijk een kaartje vergeten sturen. Aangezien ik wel van haar een kaartje had gekregen voor mijn verjaardag, voelde ik mij een beetje schuldig. Deze week stuurde ik dan ook nog een mini-pakketje naar Elisse op, met uil thema (hoewel het Vriendje bleef beweren dat mijn uil-meisje meer een kat dan een uil was. Wat denken jullie?).
// Elisse also asked people to sent her birthday cards back in Fabruary and of course I forgot. I felt a little bit guilty, I got a card on my birthday from her after all, so I decided I would make it up to her and sent her a little package this week. I tried to keep it owl themed, although my boyfriend kept insisting the girl I drew was more a cat then an owl. What do you think?
Zelf kreeg ik een pakje van An in de bus, om mij te bedanken voor het verjaardagspakje dat ik haar opstuurde. Ik kreeg een leuke bladwijzer, knoopjes, papiertjes met verschillende prints die keihard van pas gaan komen en een setje schattige magneetjes (druppels! wolkje!). Merci An!
// I also got some mail from An. She sent me a thank-you package with some cutte buttons, a penguin bookmark, some pretty printed pieces of paper and a super cute set of magnets with droplets and a cloud. Thank you An!