Deze week was er zo eentje waarvan ik mij op zondagochtend de memorabele momenten probeer te herinneren, maar er maar belabberd uitkomt. 't Kan niet altijd speciaal en waaw zijn zeker? Misschien dat ik volgende week er zelf wat waaw-factor aan ga moeten toevoegen.
// Last week wasn't very special. I spent most of the time working on the same things (cooking, making presents for newborns and tidying my studio). Maybe next week I'll put some extra effort in, so I'll have some more pictures and special memories.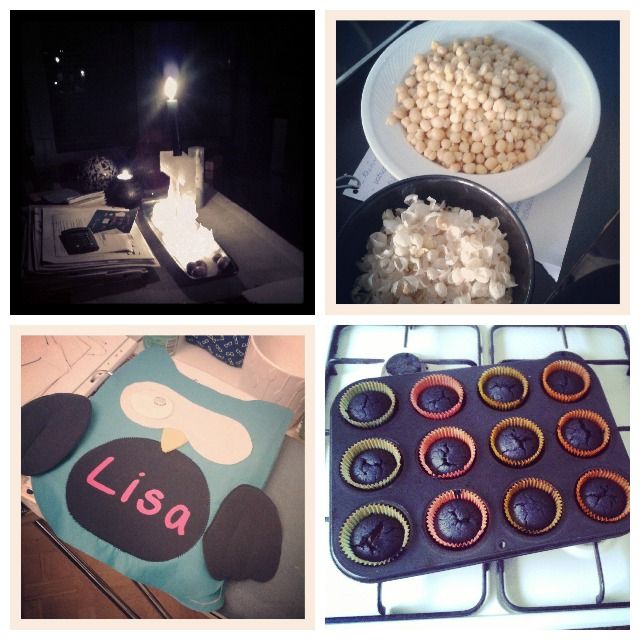 We deden een week vroeger van Eath Hour, aangezien de elektriciteit plots uitging. // Ik ging plasma geven en had er voor de eerste keer ooit nada last van. Hoera voor andere aders te laten prikken! // Ik spendeerde veel tijd in de keuken (groentenpakketten tot middagmaal verbouwen is niet altijd simpel met groenten die je niet goed kent) en pelde kikkererwten voor hummus (al moet dat blijkbaar niet?) // Ik bracht ook veel tijd door met mijn naaimachine (maar voor de resultaten daarvan moet ge nog een beetje wachten). // Mijn Domestic Goddess-ego kreeg deze week een serieuze deuk te verwerken toen ik mijn cupcakes compleet vergat (ik was gaan opruimen). Ik probeerde nog te doen alsof het gewoon cupcakes met zwarte chocolade waren, maar de verbrande geur die in de keuken hing hielp niet bij het in stand houden van die illusie.
We had our Earth Hour one week earlier since all the lights went out on Saturday // I spent a lot of time in the kitchen, because making meals out of vegetables you almost never use isn't easy. I also made hummus, which was a lot of work peeling those chickpeas // I made an owl and some other things, but I'll post more on those next week // My Domestic Goddess ego suffered badly this week: I completely forgot a batch of cupcakes (I was tidying my studio) and left them in the oven for almost 2 hours! Not something I can recommend..
Met serieus wat tegenzin deed ik een poging om aan mijn thesis te werken. ALLES is leuker dan aan mijn thesis werken momenteel, vandaar dat er deze week veel opgeruimd werd) // En ziet, sneeuw begot! Zo laat op het jaar! Amai, chance dat we Instagram en Twitter en Facebook hebben, anders zouden ons kleinkinders ons wellicht niet geloven!
I worked on my thesis (although everything seems more interesting than spending time on my thesis, hence all the tidying this week) // Look, snow! I've never seen snow this late in March, but luckily we have Instagram, Twitter & Facebook, so our grandchildren will believe us when we talk about it! 😀 
Hopelijk hebben jullie allemaal een leuke week en een goed weekend achter de rug? // I hope you all had a good week?