Een wereldkaart met de mogelijkheid om onze reizen te pinnen stond al een tijdje op mijn verlanglijst. Zo een kaart is helaas niet zo makkelijk te vinden/betaalbaar, dus het werd hoog tijd om zelf de handen uit de mouwen te steken!
// I've wanted a map of the world where I could pin our travels for a while now, but finding  one of those isn't easy. So I decided I would make one myself. It's way cheaper and it's easy. 🙂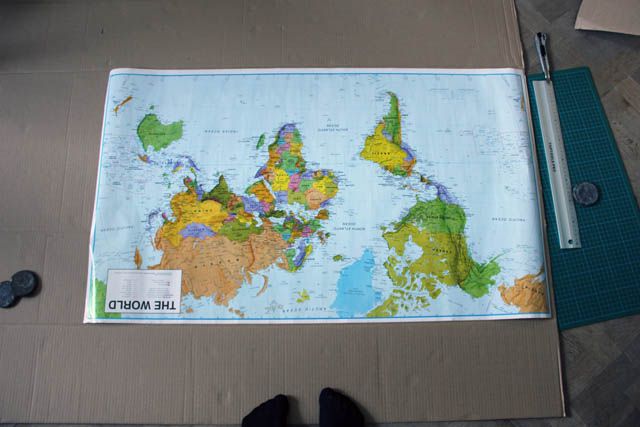 Nodig:
een wereldkaart (wij vonden ons super goedkoop exemplaar in een boekenwinkel in Amsterdam)
karton ter grootte van je kaart (in ons geval: verpakking van een Ikea kast)
spuitlijm
oogjes (ofte "ringen met schijven" volgens de verpakking)
touw
ook nog: breekmes, lange lat, gewichtjes, snijmat
// You'll need:
a map of the world
a piece of cardboard the size of your map (I used the packaging  of an Ikea closet)
spray glue
grommets/eyelets
a piece of string
you might also need a cutter, weights, a cutting mat and a ruler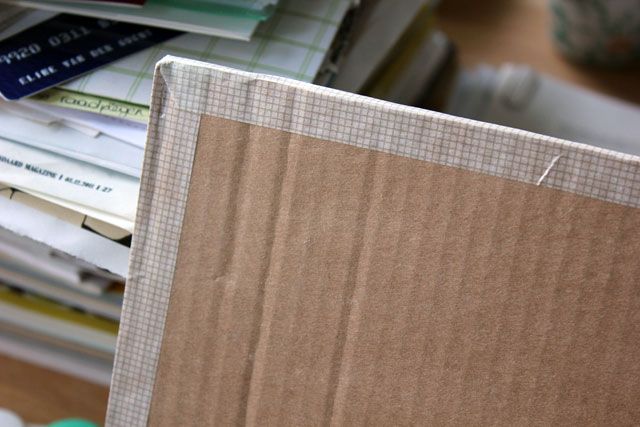 Om te beginnen snijd je, indien dat nodig is, het karton en/of uw kaart op maat. Om mijn stuk karton extra te verstevigen heb ik op de achterkant verticale kartonen stroken gekleefd. Sowieso is de zijkant van uw karton niet zo mooi, dus ik voorzag de rand onmiddellijk van een laagje washi tape.
//To begin you'll have to fit your cardboard so it's the same size as your map.  I also reinforced my piece of cardboard by gluing some pieces on the back. I also didn't like the look of the cardboard side. I used washi-tape to make it look cleaner.
Wanneer de washi-tape erop hangt is het al tijd om uw stuk karton in te spuiten met de spuitlijm. Spuitlijm belandt overal, dus je doet dit best buiten. Lees ook goed de instructies op de bus. Ik had herpositioneerbare spuitlijm, niet zo ideaal, zo bleek achteraf.
// After I put the washi tape on the cardboard I used spray glue to cover the whole piece of cardboard. I find working with spray glue quite messy, so I did this outside. Read the instructions of the glue carefully. I used repositionable glue and I found this not really ideal, because my map came loose again after a while (you'll see this in the pictures).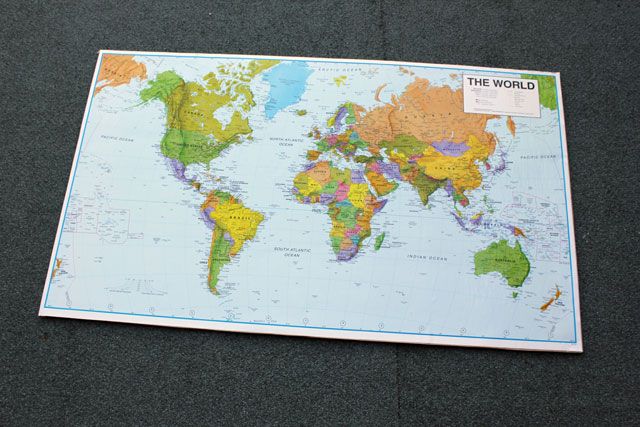 Hang de kaart voorzichtig op het karton, let er op dat je nergens blazen of plooitjes hebt. Je doet dit dus best op het gemak. 🙂 Je kan de kaart hierna ook weer voorzien van een washi tape randje, wat ik ook gedaan heb.
// Place the map carefully on the cardboard, look out for bubbles or folds. Take your time for this! 🙂 After I glued the map to the cardboard I put a second layer of washi tape around the map, because I liked the clean look.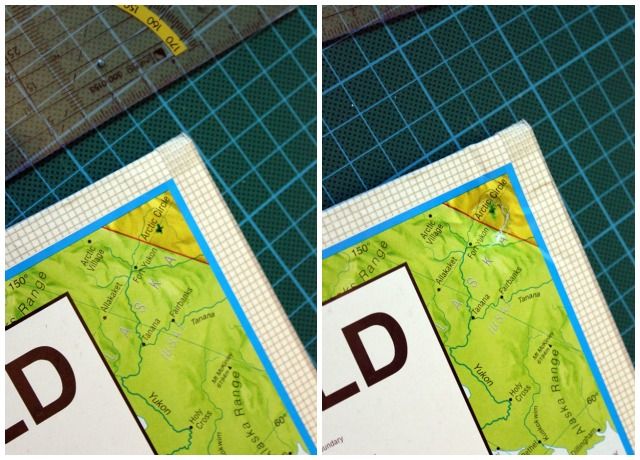 Nu is het tijd om het ophang systeem te "installeren". Ik gebruikte oogjes (in het engels "eyelets" of "grommet") die ik in de Veritas vond. Zorg dat je redelijk grote oogjes koopt (de mijne zijn 14mm), anders raak je niet door de lagen karton. Duid de plek aan waar je de oogjes wilt en volg de gebruiksaanwijzing die op het doosje staat. Wellicht ga je niet door het karton raken, niet erg, als je gewoon al een serieuze deuk hebt, kan je het rondje verder uitsnijden met een mesje.
// Your map is almost ready now, but we still need a way to hang the map. I used grommets (or eyelets) for this. I found them in my local hobby store (Veritas). Be sure to buy some bigger sized grommets (mine are 14 mm), because otherwise it will be very hard to get through the layers of cardboard. Mark the places where you want the grommets and follow the instructions on the box. You'll probably wont get through the cardboard, but that's not necessary. It's enough to make a ditch in the cardboard and then cut it farther out wit an x-acto knife.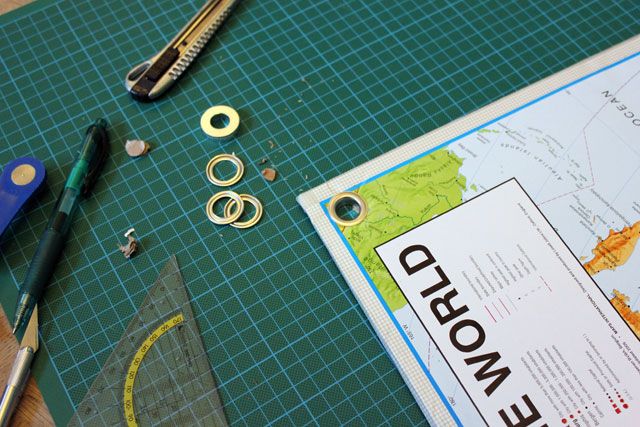 Eens de oogjes geïnstalleerd zijn, is het enige wat nog rest voor ophanging zorgen. Ik ging voor eenvoudig bakkerstouw, bij gebrek aan betere inspiratie. 😛 (Zoals je kan zien hebben we een paar blazen in onze kaart. Ik steek het alvast op de lijm! En misschien het ongeduldig direct omhooghangen & prikken van de kaart, maar toch, de lijm!)
// Once your grommets are installed, you only need to find some ribbon or string so you can hang your map. I used bakers twine, because I didn't really knew what else to use. 😛 As you can see, I've got quite some big bubbles in my map. I blame it on the glue, because they weren't there at first.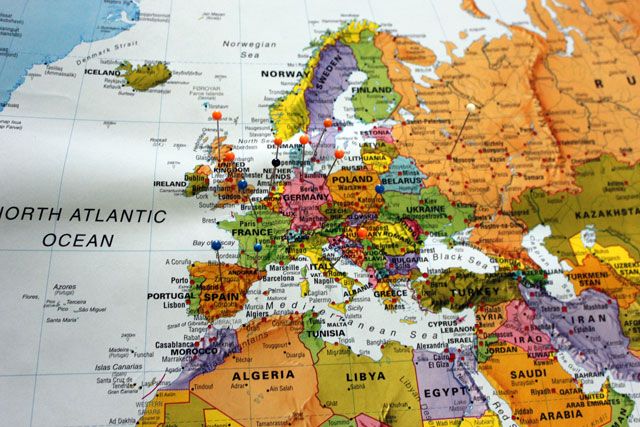 Voila, je kan al beginnen pinnen waar je de afgelopen jaren allemaal al bent geweest en wat er allemaal nog op de planning staat. Ik kan maar tot één conclusie komen: we moeten dringend eens op reis buiten Europa! 🙂
// All that remains now is finding some pins and you can start marking all the places where you've already been and everything you plan to visit. I can only come to one conclusion: I need to get out of Europe sometime! 🙂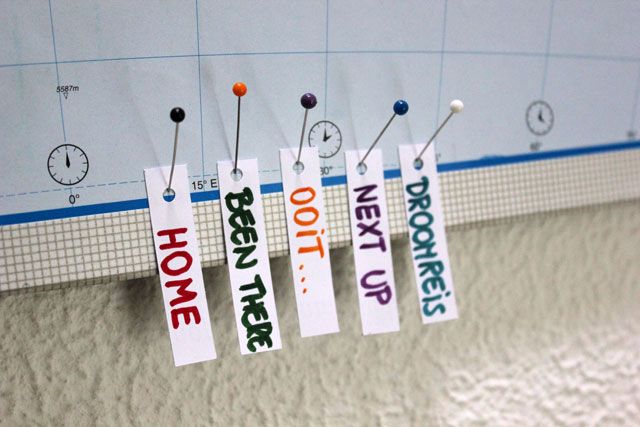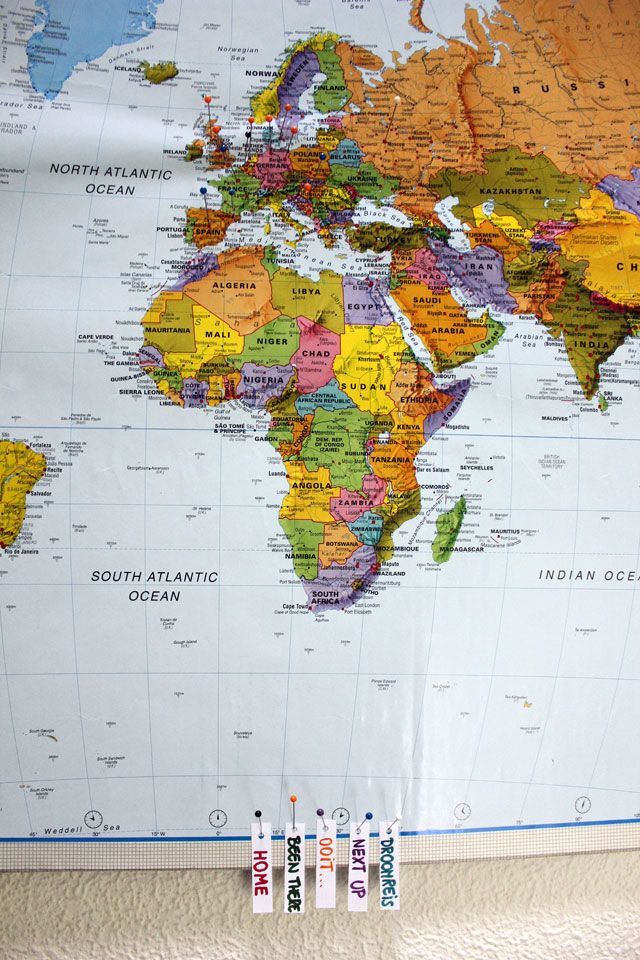 Ik kwam ook nog een leuk alternatief tegen voor wie niet genoeg plaats (of geen zin) heeft om een (wereld)kaart aan de muur te hangen: een wereldbol. Sowieso leuk om te verzamelen, maar ook heel erg leuk om reizen op aan te duiden!
// I also found a nice alternative for when you don't want to hang a giant map on your wall (or you simply don't have the space for hanging one): use a globe! They're always nice to collect, but you can mark all your travels on them with a simple Sharpie!