Om eerlijk te zijn, zijn niet al deze foto's echt van vorige week. Sommige zijn al een weekje (of twee) ouder. De afgelopen weken heb ik in een soort mini-dip doorgebracht, ondanks het mooie weer, wist ik met mijzelf geen weg. Normaal iets dat ik enkel vlak voor een examenperiode heb, maar aangezien ik geen examens heb deze semester ga ik mijn dip op een compleet niet-opschietende thesis steken. En na zo een dip ben ik meestal wel gemotiveerd, dus de komende weken gaat voorgenoemde thesis hopelijk eindelijk wel opschieten.
// To be fair, not all of these pictures are from last week. Some of them are a week (or two old). The past weeks I've had a little dip, so I didn't take a lot of photos. Normally I get dips like these at the start of the exam period, but since I don't have any exams this semester, I blame it on my thesis. I've been having a hard time putting it together, feeling very unmotivated.  Luckily I feel better/motivated again. 🙂 
Padden & kikkers spotten in de tuin // Verbrand zijn op de eerste dag dat de zon eens deftig scheen // Stockverkoop bij Just In Case ofte mijn kleerkast aanvullen met mooie stukken Belgische mode // Heel erg lekkere pastinaakstoemp & zalm (op zijn Jeroen Meus)
// Spotting frogs and toads in my parents' garden // The first real day of sunshine and guess who got burned? Yup… // I went to the Just In Case stock sale, looking for some nice pieces of Belgian fashion that would fit my closet (and me) // Mashed potatoes and parsnip with salmon. So yum!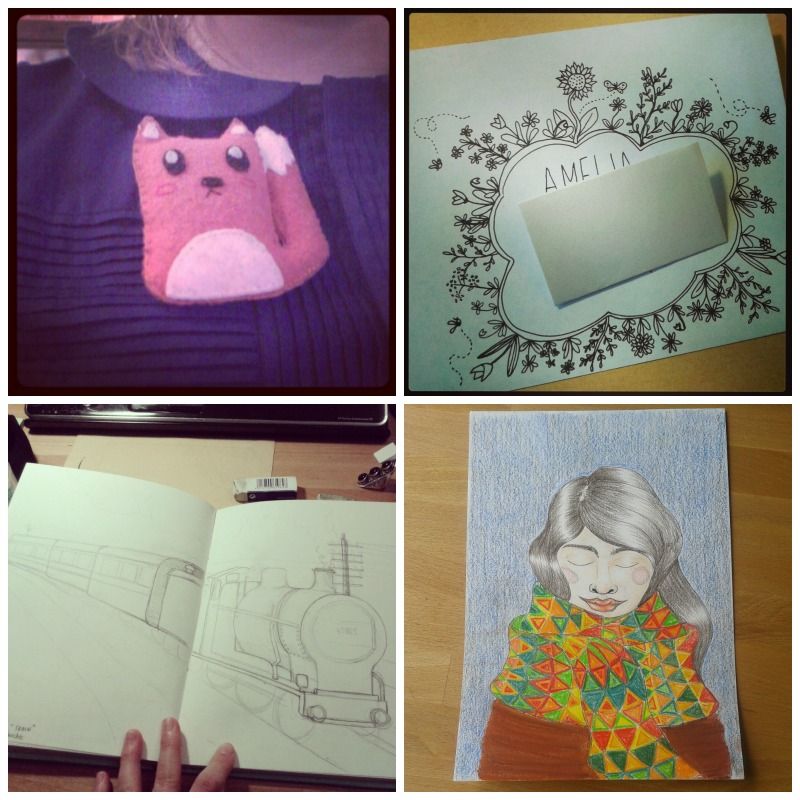 Mijn vosjesbroche mocht mee naar een familiefeestje (en ja, dat is één van de hierbovengenoemd Just In Case kleerkast-aanvullingen ♥) // Een snail mail enveloppemet zorg illustreren // Illustration Friday onderwerp "train" en "wool". De trein moet nog steeds van verf voorzien worden.
// My fox brooch got to go to a family party with me (an yes, that's one of those Just in Case pieces I bought) // Illustrating a snail mail envelope // I finally got to illustrating the IF themes "train" and "wool". Still need to paint the train though.
Zonnebloemen en Goudsbloemen die aan groeispurt doen. Ze moeten wel nog een beetje wachten vooraleer ze de tuin in mogen, want nu zijn ze vooral een lekkernij voor de (huisjes)slakken die mijn tuin aan het overnemen zijn // Japans gaan eten! Mijn eerdere ervaringen met de Japanse keuken waren…erm.. niet zo positief (ik mag echt echt echt geen sushi :(), maar voor tappanyaki moogt ge mij altijd meevragen! De rest van de week mocht het eten er ook zijn: restje Chinees (alweer iets dat mij steeds meer bevalt) & BBQ! // Loki kreeg een belletje aangebonden en kroop toen heel ongelukkig bij Schrödinger om een beetje troost te zoeken ((hij is zo klein!) // Op de bus naar het thuisfront!
// Sunflowers and Marigold growing very fast. I can't put them outside yet, because the snails that are conquering my garden right now would eat them immediately // I ate teppanyaki for the first time and I really liked it (unlike sushi, which I really don't like :(). We also ate BBQ & Chinese, it was a good week, food wise // Taking the bus to my parents' house!
Hopelijk hebben jullie er een goede week op zitten? // Hopefully you had a nice week?