Allemaal een goed weekend gehad? Ik heb alleszins genoten van het weekend en het goede weer. 🙂 Vandaag heb ik zo goed als de hele middag doorgebracht met het Kubb-spel. Natuurlijk is mijn gezicht wat verband (heb ik al eens gezegd dat ik eigenlijk echt niet goed tegen de zon kan?) Alleszins, een hoed is voor mij het it-accessoire voor deze zomer. 🙂
// How was your weekend? I've enjoyed the sun these last days. This afternoon I've played Kubb. It was very fun, unfortunately my face got a little burned. Have I ever said I'm not to good with direct sunlight? I'm guessing I already know my it-item for this summer: a hat! 🙂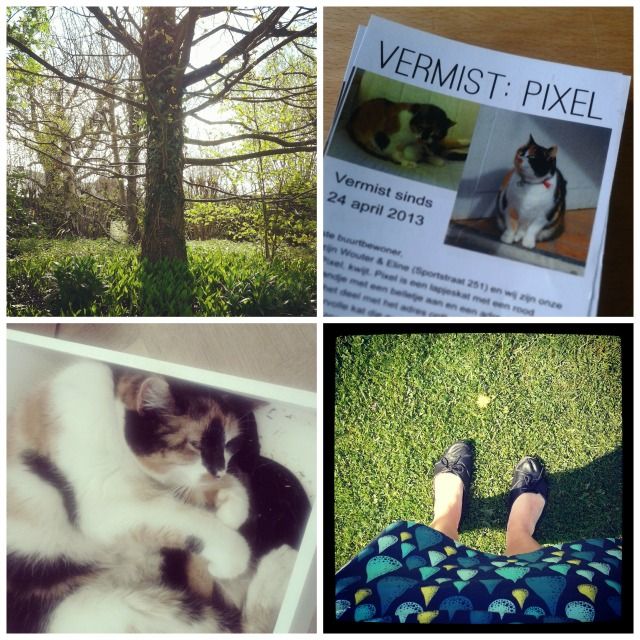 Genieten van het mooie weer en de ochtendzon // Vorige week was een beetje spannend op een onaangename manier. Pixel verdween namelijk voor vijf dagen. Niet haar gewoonte en na het verpsreiden van 80 flyers in onze buurt stond ze dinsdagmiddag plots terug op onze trap. Vermagerd en vuil, maar verder in orde. Een hele opluchting! // Mijn eerste Me-Made-May outfit: mijn druppelrokje, helaas is er verder nog niets in huis gekomen van poseren voor echte foto's.
// Enjoying the morning sun // Last week our cat Pixel disappeared for five days. We were very worried and put flyers in all our neighbours' mail boxes and that did the trick! She came back on Tuesday, much thinner and a little bit dirty, but well. 🙂 // My first handmade skirt for Me-Made-May. I wanted to do a little photo shoot with this skirt, since it's one of my new skirts and it's never been shown properly on the blog before, but I didn't make/find time.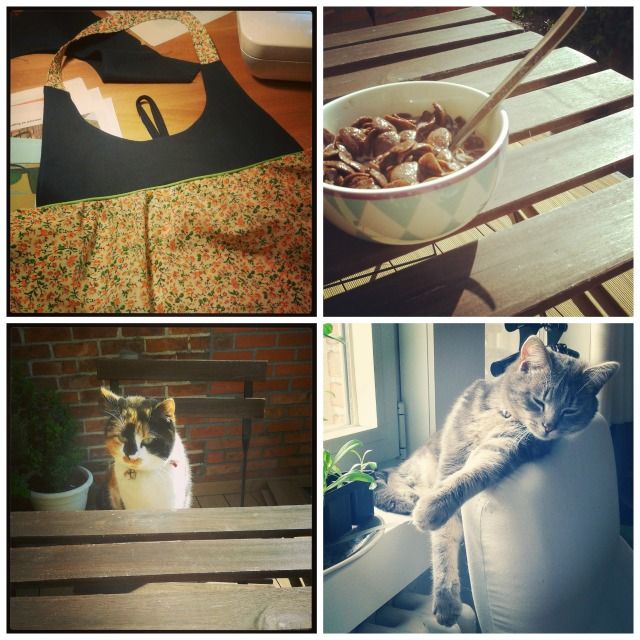 Een Amsterdam-tas! Stond al lang op mijn to-do lijstje en ik ben erg tevreden met het resultaat // Ontbijten & genieten op het terras in de zon // Pixel kwam mij gezelschap houden // Loki nam vreemde houdingen aan omdat hij niet kon beslissen of hij liever op de vensterbank of de zetel sliep. Dan maar beide. 🙂
// An Amsterdam-bag! It's been on my to-do list for forever! I'm quite happy with the result and I didn't find the pattern too hard, so there will be more. 🙂 // Eating breakfast and enjoying the sun.. with Pixel as my companion. // Loki couldn't decide whether he would rather be on the windowsill or on the chair. So he did a little "why not both?" 🙂
Mijn plantenbuit van op de wilde plantenbeurs van Natuurpunt: Lavas, bonenkruid, paarse basilicum en venkel om mijn kruiden aan te vullen. Echinacea Purpurea, Digitalis Purpurea, Koninginnenkruid, Zeepkruid en nog twee planten waar ik helaas de naam al niet meer van weet. Hopelijk leveren die een hele hoop gelukkige bijen en vlinders op deze zomer. // Zonnebloemen en goudsbloemen die binnenkort ook de tuin gaan opvrolijken. Zaadjes planten in het voorjaar is iets dat ik wel jaarlijks wil beginnen doen, want het was geweldig om ze zo hard te zien groeien!
// I bought some new plants for our garden at the Natuurpunt wild plant market. I got a few herbs (Lovage, summer savory, purple basil and fennel), but also some flowery plants for filling the gaps in my garden (Echinacea, foxglove, hemp-argimony, common soapworth and some others that I can't recall). Hopefully, I'll have some happy butterflies and bees this summer. 🙂