Aah, het einde van het jaar is nu echt wel in zicht. Ik weet niet hoe het bij jullie zit, maar ik ben alvast al volop aan het dromen over wat 2014 allemaal gaat brengen. Ik mag echter niet vergeten om ook van mijn laatste dagen van 2013 te genieten en hoe beter genieten dan, ahja!, met een kleine terugblik. Volgens mijn statistieken zijn dit de meest gelezen posts van 2013, toevallig ook een paar van mijn favorieten. 🙂
// Aah, I can almost smell the new year now! If you're a little bit like me, then you're probably already making plans (and lists!) for 2014? I shouldn't (and neither should you) forget to enjoy these last days of 2013 tough. So I wrote a little recap, featuring my most read (and some of my favourite) posts of 2013. 🙂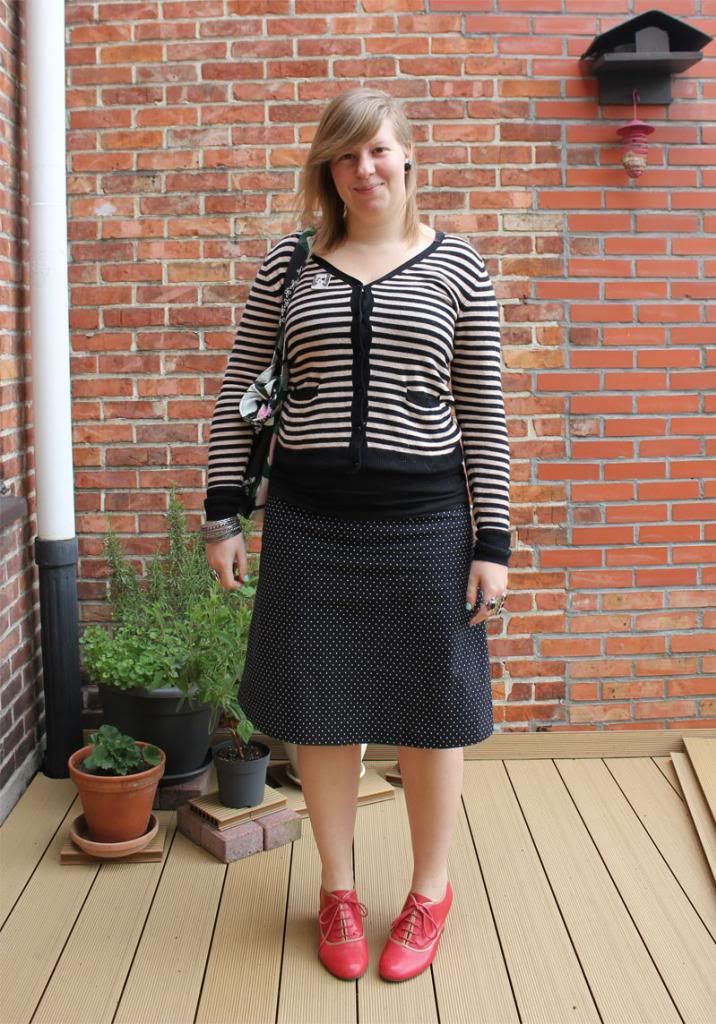 01. De Allemaal Rokjes A-lijn rok blogpost // My blogpost about my A-line skirt I made with the help of the "Allemaal Rokjes" (Everythings Skirts) book from Madame ZsaZsa.
02. Er was ook veel interesse in de Veritas Sew Be Do stoffencollectie. Het was een erg fijne namiddag met Elisse en ik zou zeker geen neen zeggen moesten ze mij de vollgende collectie-lancering nog eens uitnodigen. 🙂 // Veritas asked me for their Sew Be Do fabric collection press presentation and I gladly went. I had a fun afternoon sewing with Elisse and I hope they'll ask me again for future events. 😉
03. The Big Drawing Challenge was, mede dankzij Fenne (en iedereen die deelgenomen heeft natuurlijk) een geweldig succes! Wie weet komt er volgend jaar wel een deel II? // Together with Fenne I organised The Big Drawing Challenge, which was a succes! Thanks again to everybody who participated and maybe we make it a part II next year.
04. Ik raakte dit jaar een beetje gefrustreerd in het aanbod bij de stoffenwinkels en schreef een soort open brief, die jullie vervolgens wel leken te smaken. // I got frustrated with the offer in the Belgian fabric stores and I wrote an open letter. 
05. Eén van mijn favoriete DIY's van dit jaar, mijn prikbord wereldkaart. Iedere keer als ik ze passeer in de gang droom ik van verre reizen en leuke herinneringen. // One of my favourite DIY's I made this year, my pinable world map! I still like watching all the little pins, dreaming of the places I still want to visit and remembering all the cool things I've seen already.
06. Nog een DIY in de top 10 en ook een favoriet. Het was zwaar werk voor mijn handen, maar ze mag zeker gezien worden, mijn gehaakt tapijt! // Another cool DIY I made this year: my crochet rug. It was a hard time for my hands, but it was so worth it!
07. Ook mijn blogpost over het herwerken van mijn zitzak was een favoriet. Ik kan al niet wachten om er in de lente opnieuw met op het balkon te gaan zitten. // I also refashioned my old bean bag into a brand new one and wrote a tutorial about it. I can't wait for spring, so I can start using it again outside.
08. Ha, het zal nog niet zijn zeker, maar deze mocht post absoluut niet ontbreken in de lijst: de Gentse blogmeet post. Heel erg fun om te organiseren én te mogen meemaken. Nog zo iets dat in 2014 zeker een opvolger verdient! // This year I also organised my first blogmeet! It was a bit scary, but for the most part just very fun to do and hopefully, we can do this over in 2014! 
09. Nog een tutorial om het af te leren, want mijn herwerkte versie van mijn kussensloop tutorial mocht ook niet ontbreken. Alleen al omdat ik nogal gehecht geraakt ben aan mijn relax momentjes met dit kussen. // The last tutuorial in this list is my DIY pillow case blogpost. I'm still in love with this pillow.
10. Als laatste mijn Studio Tour post, iets dat echt ik-weet-niet-hoe lang op mijn to do lijst gestaan heeft. Ik vond het alleszins fijn om mijn studio op de foto te zetten (en netjes aan te kleden ;)), misschien iets dat ik in 2014 best ook eens met al onze andere kamers zou doen. // I wanted to take you guys on a studio tour since forever, but I never found the time or courage to do it, until I posted my Studio Sneak Peek this year! Hopefully I'll manage more of these kind of posts next year. 🙂
Wat was jullie favoriet van het afgelopen jaar?
// What was your favourite from this past year?