English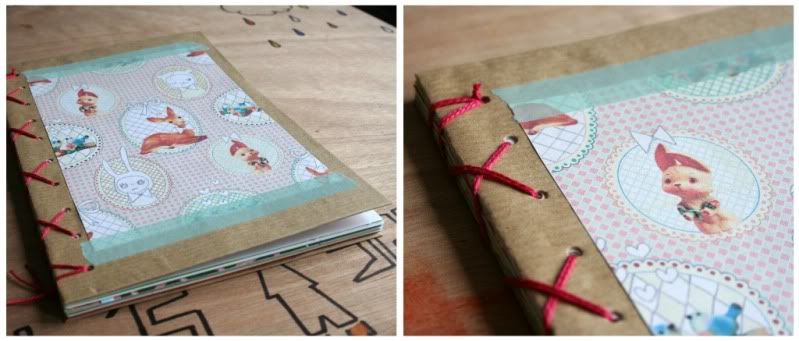 This is a repost of an old tutorial (which was never translated in English before), but because one can never have enough little notebooks lying around (one of my personal mottos), I've decided to put it up again. I also have the tendency to personalize my notebooks and with this easy tutorial you can make a booklet that fits your needs perfectly.

Materials:
Different sorts of white paper (lined / blank / …) in the size you want your booklet to be (I used A5/148x210mm).
Different sort of coloured paper (optional)
Decorations for the booklet (cards, masking tape, coloured paper for the cover,…)
Two pieces of cardboard stock
Yarn or twine (not too thick!)
Scissors
Ruler
Utility knife
Pencil
2 sewing needles
Something to punch holes with
Process
For starters I measured where I wanted the holes to be on a pieces of scrap paper. I put a hole every 1,5 cm about one centimetre from the side of the paper. Then I perforated the holes in that piece of scrap paper. Next you put your piece of scrap paper and put it on top of a couple of the papers you want to use for the booklet and you start perforating. You do this until all your pieces of paper are perforated. It's a bit of a boring job, but you'll have mini confetti's at the end! Yay!
Next we're going to make the cover of the booklet. I covered two pieces of cardboard stock in brown craft-paper. I also glued an image by Margo Slingerland on top and used some washi tape for extra decoration.
When everything is perforated, covered and pasted, it's time to start binding in the booklet. Now we need the twine of yarn and the two sewing needles. I wanted to used a red and white striped twine first, but it didn't fit through the holes I made and I ended up using a red embroidering thread.
Cut of a very long piece of thread and string both needles on it. Make a knot at the end. Fold the yarn double and move the needles so there's one at each end of the thread. Now You put the thread through the top hole of the booklet. Pull the thread through until you reach the middle of the thread. Now you 'weave' your needles through the holes in the paper. I alternated between my needles (put one needle through the first hole and the second needle through the next), until I got this cross-stitched pattern. When you reach the end you just have to put a knot in the thread and you're done!
Tip: use paper clamps to keep the pieces of paper together while you're sewing.
Nederlands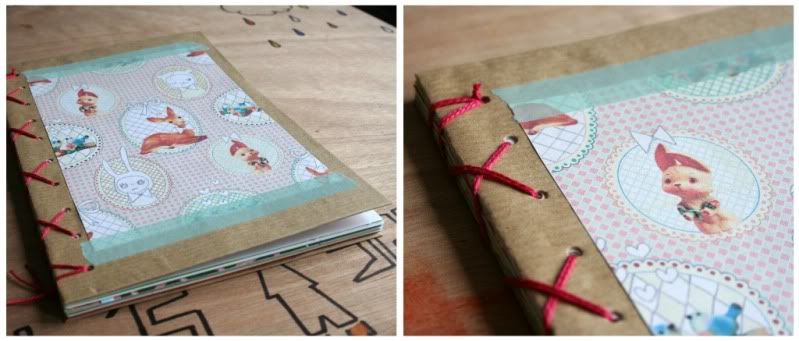 Dit is een repost van een oude tutorial, maar aangezien ik boekjes maken nog altijd geweldig leuk vind, mag dat. 'Een mens kan geen boekjes genoeg hebben' is wellicht een van mijn persoonlijke slogans. Ik ben waarschijnlijk niet de enige die al zijn schetsblokken, agenda's en schriftjes personaliseer en met deze tutorial maak je gewoon onmiddellijk schriftje op maat. Keihandig, zeg ik u!
Benodigdheden:
Verschillende soorten (effen/geruit) papier (hier in A5 formaat)
Verschillende soorten gekleurd papier (optioneel)
Versiering voor je boekje (kaartjes, gekleurd papier, masking tape…)
Twee stukken grijskarton (in A5)
Garen of touw om boekje in te binden (niet te dik!)
Schaar
Lat
Breekmes
Potlood
2 naalden
Gaatjesmaker (of perforator)
Werkwijze
Eerst heb ik op een stuk klad-papier (dat de grootte van het schriftje heeft) aangeduid waar ik de gaatjes wou waarmee het schriftje wordt ingebonden. 'k Heb om de 1,5 cm een gaatje genomen. Na het afmeten en perforeren van dat eerste blad, leg je dat blad op een aantal blaadje en begin je te perforeren. Tot als alle blaadjes geperforeerd zijn. Beetje een saai werkje, maar de beloning is een stapel mini-confetti's! Yay!
Vervolgens heb ik de kaft van mijn schriftje onder handen genomen. Een neutrale bruine papieren achtergrond, die ik daarna afwerkte met washi tape en een prent van Margo Slingerland.
Als alles geperforeerd, gekaft en beplakt is, is het eindelijk tijd om het schriftje in te binden. Hiervoor hebben we onze draad en de twee naalden nodig. Ik was eerst van plan om het rood/wit gestreepte touw te gebruiken, maar de gaatjes in mijn schrift waren daarvoor net iets te klein. De stapel borduurgaren werd dus doorzocht op zoek naar een geschikt kleurtje.
Knip de draad lang genoeg af, rijg de naalden aan de draad en leg er een knoopje in aan het uiteinde. Vouw de dubbele draad in twee zodat er aan ieder uiteinde een naald zit. Haal de draad door het eerste gaatje tot hij ongeveer halverwege is. Weef de draad nu door de gaatjes met behulp van de twee naalden. Ik heb afwisselend een naald door een gaatje laten gaan, zodat ik het kruispatroon kreeg dat je hieronder kan zien.
Een andere manier is om beide naalden telkens door hetzelfde gaatje te halen, zodat de draden op de rug van het schriftje kruisen. (tip: gebruik klemmen om je papieren mooi samen te houden terwijl je het schriftje aan het inbinden bent) Tenslotte doe je gewoon een knoop op je draden en je kan genieten van je hoogstpersoonlijk schriftje. 🙂