English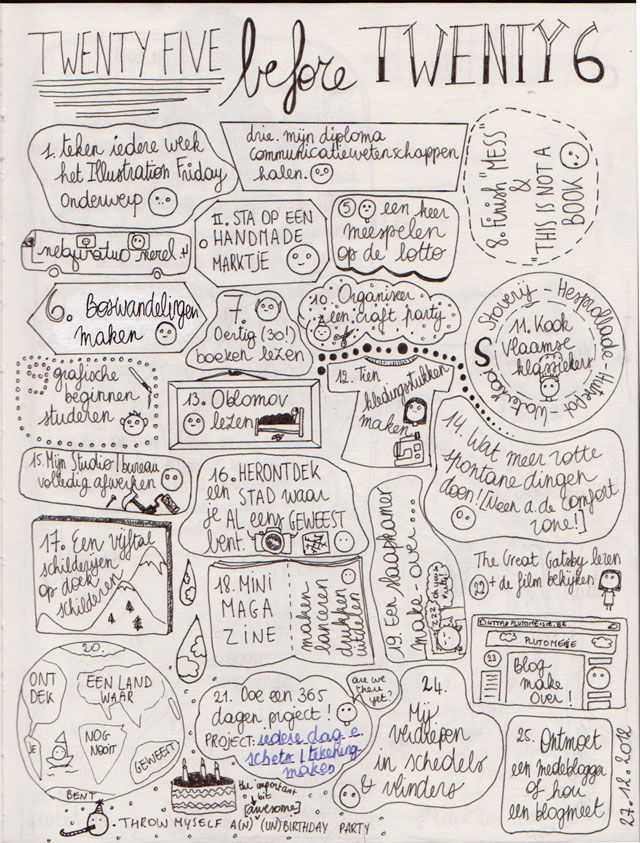 Every year on my birthday I publish a list of all the things I'd like to complete in the following year. This year is no different and I drew out a nice little list of 25 things to complete before I turn 26. The list above is (mainly) in Dutch, so I did a quick translation. 🙂
01. Draw the Illustration Friday topic every week (8/52)
02. Participate in a handmade/craft market
03. Get my Master in Communication Sciences
04. Finally get my driving license
05. Play the lottery once (and win ;))
06. Make some long walks in the forest
07. Read thirty (30!) books (21/30)
08. Finish "Mess" and "This is not a book"
09. Start my bachelor Graphic Design and Digital Media
10. Organize a craft party
11. Learn to cook a few classic Flemish dishes (Stew – Hodgepodge – "Waterzooi" – Ham rolls with chicory – …)
12. Sew 10 pieces of clothing (Droplet Skirt – Mint Datura – Gentse Feesten Datura – Mint Banksia – The "yes you do" Cambie Dress)
13. Read Oblomov by Ivan Goncharov
14. Say more "no" to my comfort zone & do some crazy & spontaneous things
15. Finish my studio space redecoration
16. Rediscover a city where I've been before
17. Paint five paintings on canvas
18. Produce a mini-magazine
19. Give my bedroom a make-over
20. Discover a new country
21. Start & complete a 365-days project. I chose 365 Days of Drawing (365 DoD)
22. Read "The Great Gatsby" & watch the movie
23. Give my blog a make-over
24. Get a little obsessed with skulls & butterflies
25. Meet a fellow blogger (or if I feel particularly brave organise a blogmeet)
Optional: throw myself an awesome (un)birthday party! ^-^
Nederlands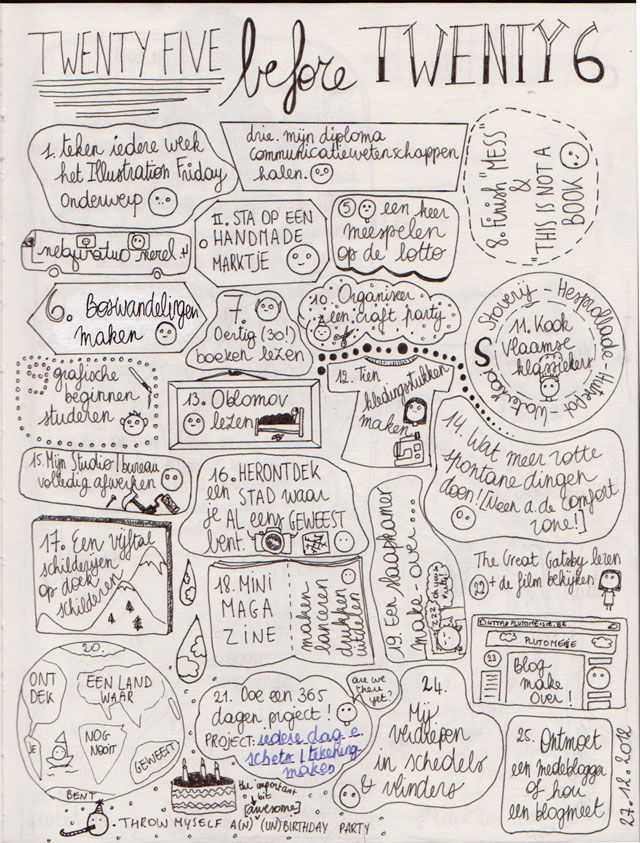 Ieder jaar maak ik rond mijn verjaardag een lijstje met dingen die ik graag tegen mijn volgende verjaardag wil verwezenlijken. Ik probeer mijn lijst iedere keer op een ietwat originele manier uit te werken. Dit jaar een redelijk random, maar met overal een gezichtje dat ik mag inkleuren (of een smiley geven) als ik een punt van mijn lijst volbracht heb. Om het jullie gemakkelijk te maken heb ik mijn lijstje hieronder nog eens mooi uitgetypt. ^-^
01. Iedere week het Illustration Friday onderwerp tekenen (8/52)
02. Op een handmade marktje staan met zelfgemaakte spullen
03. Mijn diploma communicatiewetenschappen halen
04. Leren autorijden
05. Een keer meespelen op de lotto (en winnen natuurlijk ;))
06. Zalige boswandelingen maken
07. Dertig (30!) boeken lezen (21/30)
08. "Mess" & "This is not a Book" afwerken
09. Beginnen aan mijn (verkorte) bachelor Grafische & Digitale Media
10. Een craft party organiseren
11. Vlaamse klassiekers leren koken (Stoverij – Hespenrolletjes – Hutsepot – Waterzooi – …)
12. Tien kledingstukken maken (Druppelrokje – Datura in mint -Banskia in mint – Gentse Feesten Datura – The "Yes you do" Cambie Dress)
13. Oblomov van Ivan Gontsjarov lezen
14. Wat meer zotte & spontane dingen doen [Neen aan de comfortzone!]
15. De inrichting (en uitmesting) van mijn bureau volledig afwerken
16. Een stad herontdekken waar ik al eens geweest ben
17. Een vijftal schilderijen op doek schilderen
18. Een mini-magazine maken/lanceren/drukken/uitdelen
19. Mijn slaapkamer omtoveren van een functionele naar een gezellige kamer
20. Een land ontdekken waar ik nog nooit geweest ben
21. Een 365-dagen project beginnen (en voltooien): Iedere dag een schets/tekening maken (terug te vinden onder 365 Days of Drawing)
22. The Great Gatsby lezen + de film bekijken
23. Mijn blog een volledige make-over geven
24. Mij verdiepen in schedels & vlinders
25. Ontmoet een medeblogger (een suggestie van CarlaK)/hou een blogmeet.
Optioneel: throw myself an awesome (un)birthday party! ^-^